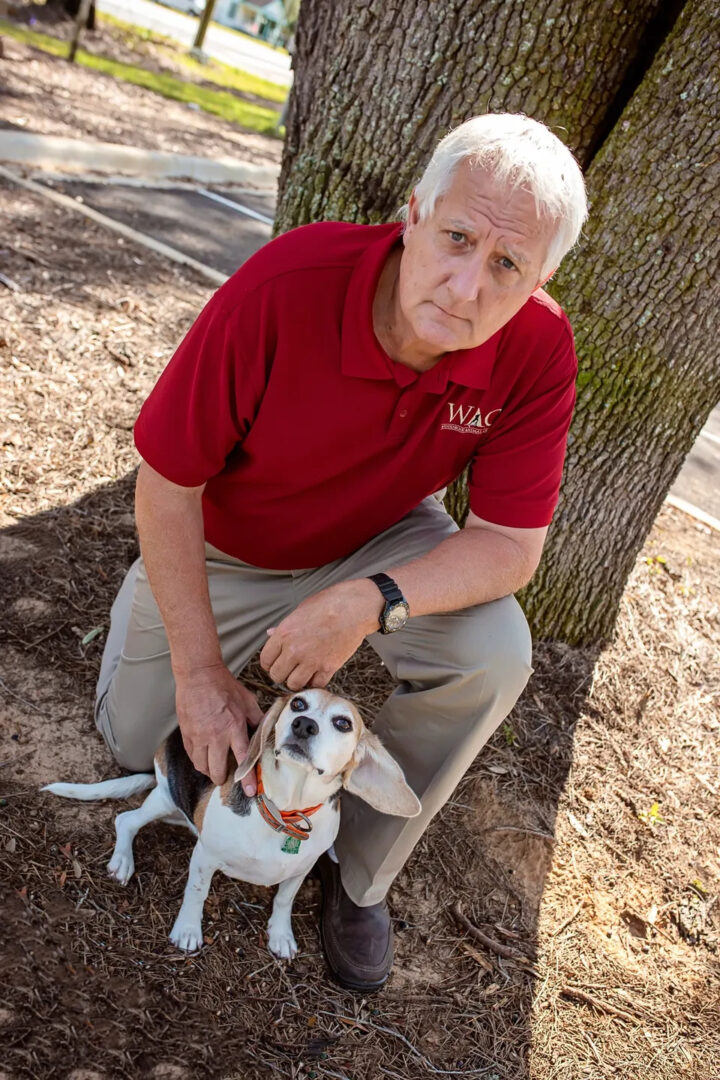 Experienced Veterinary Professionals at Your Service
We are a full-service veterinary clinic that offers general and some specialty pet care. We offer a wide variety of diagnostic services, X-ray examinations, surgical procedures, vaccinations, and routine checkups.
We pride ourselves on working closely with you to offer your pet the best professional medical care available. We are a high-quality vet clinic that you and your pet will both love to visit. We are dedicated not only to treating your pet but also implementing preventative care to keep them healthy and happy.
Our experienced and qualified team provides services that aid in making pets thrive. Through continuing education, we stay up to date with the most recent developments within the veterinarian field and are devoted to exercising compassion in all of our interactions. Not only do we provide quality care to your pets, we also support you as the caretaker.
Dr. Brian Brayton
Doctor of Veterinary Medicine
Dr. Brayton graduated from Tuskegee University College of Veterinary Medicine in 1993. He previously earned his master's degree in Coastal Zone Ecology from the University of West Florida. He has worked in the Santa Rosa County area since his graduation from Tuskegee University, and he established Woodbine Animal Clinic in 1999.
Dr. Brayton lives in Pace with his wife and three children. They have four dogs and two horses. He enjoys boating, fishing, and many other types of outdoor activities. He also enjoys classic car restoration.
Dr. Krystal Lindsey
Doctor of Veterinary Medicine
Dr. Lindsey is a 2008 summa cum laude graduate of the Auburn University College of Veterinary Medicine (AUCVM). Prior to graduating from the AUCVM, she attended Troy University and graduated with honors with a degree in Biology. She has worked at our clinic since 2009.
Dr. Lindsey has a special interest in ophthalmology and soft tissue surgery. She lives in Milton with her husband and two children.
She has two dogs, one cat, and one horse. She enjoys many outdoor activities, spending time at the beach or the river, and is an avid Auburn Tigers football fan. War Eagle!
Dr. Cody Kane
Doctor of Veterinary Medicine
Dr. Kane graduated from Mississippi State University College of Veterinary Medicine in 2019. Prior to veterinary school, Dr. Kane graduated with honors with a degree in Poultry Science from MSU. She is Fear Free® Certified. She is originally from the Memphis metropolitan area. She has two Vizslas and one cat. She enjoys spending time at the beach, kayaking, and reading.
Dr. Morgan Currin
Doctor of Veterinary Medicine
Susie Miles, CVPM
Hospital Administrator
Susie has worked locally in the Veterinary Industry since 1999. She joined Woodbine Animal Clinic in 2023. 
She and her husband Bryann stay busy with their three children and enjoy attending various school functions and having movie days at home to relax.
They have 3 dogs, 4 cats, 8 hens and very onery rooster. 
 

 
Tonya
Customer Service Representative
Tonya has been with the clinic since April 2006. She grew up in Colorado and moved to Asheville, North Carolina after high school, where she met her husband, Willie and they married in 1990. She and Willie moved to Pace in 1998. Tonya is the proud mom of three grown children and even prouder Nana to three precious grandchildren. They also have 2 cats and 4 dogs that complete their family. In her downtime, she enjoys spending time with her family and babysitting her grandbabies. She is also an avid football and basketball fan. She loves the Denver Broncos and high school and NCAA basketball. She loves her co-workers and enjoys working with our patients and their owners.
Kim
Customer Service Representative
Kim has been with Woodbine Animal Clinic since 2016. She is a U.S. Army veteran who served 5 ½ years and was stationed in Germany for four of those years. It was there she met her husband, Mario and have been married since 1990. They have two grown children, Angelia and Justin, and two grandsons, Jayce and Lincoln. Her fur babies include two dogs, Benji and Ziggy, and one cat, Roxy. She has always enjoyed working in an office atmosphere and is enjoys working with animals and being a part of the Woodbine Animal Clinic Family.
Melissa
Customer Service Representative
Melissa has worked in the veterinary field as a Customer Service Representative since 2001 and has been with Woodbine Animal Clinic since August, 2020 and enjoys helping clients and their pets with anything they need. Melissa enjoys spending time with her family and is the grandmother (Mimi) to six grandchildren. She is the fur mom to her two dogs, Bernice and Gypsy and to one grand dog Oakley.
Holley
Customer Service Representative
Holley has worked in the field of veterinary medicine for since 2005. Starting in Virginia, then southeast Georgia and now here in the Florida panhandle. She has experience in multiple positions in the field and enjoys helping pets and their owners with anything they need. While not having any human children of her own, she enjoys spoiling all of her nieces and nephews, as well as her furry, feathered & scaly children. She has an English Staffordshire Bull Terrier named Piggy Jane, a bearded dragon, five fabulous felines, chickens, and her beloved betta fishes! Her free time is spent with her husband Peter, visiting extended family and traveling to spooky destinations.
Bianca
Certified Veterinary Technician
Bianca began working at the clinic in May of 2014 as a Certified Veterinary Technician (CVT). She was born and raised in Pensacola. She graduated from Pensacola State College with her Associate's degree in Veterinary Technology in 2014. She has wanted to work with animals in the veterinary field for as long as she can remember. As a certified veterinary technician, she strives to help animals and educate their owners.
She feels that being a CVT is very rewarding. Although it can be difficult at times, she would never trade it for another profession. She has one four-legged baby, a dog named Concrete. She loves to relax on the beach and spend time with family and friends.
Haven
Certified Veterinary Technician
Haven is Dr. Brayton's eldest daughter. She began working at the clinic in June of 2010. She fell in love with the work and never wants to do anything else. She loves hunting, fishing, and outdoor activities. Her true love is being around horses and horseback riding. She has two horses, an American Quarter Horse named Kitty and a Thoroughbred named Duncan.
She also has two dogs, Chocolate Labrador Retrievers named Haiti and Finlee, and a cat named Taz. She is currently enrolled in the Veterinary Technician Program at Pensacola State College (PSC) and is working towards becoming a licensed veterinary technician. She has also completed her Fear Free® training.
Cheri
Veterinary Technician
Cheri has been a Veterinary Technician at Woodbine Animal Clinic since 2009 and has been in the veterinary field since 1997. She is a Hill's Veterinary Nutrition AdvocateSM, which enables her to better understand the benefits of proper pet nutrition and management of medical conditions with special diets and confidently communicate it to the owners of her patients.
Cheri also has a special interest in pet dentistry and enjoys client education and communication. She is happily married and has a son. In her free time, she enjoys spending time with family and watching college football. Go Dawgs!
Chassity
Veterinary Technician
Chassity has enjoyed being a veterinary technician at Woodbine Animal Clinic since 2004. She is a mother to a handsome son and many fur babies. She enjoys assisting with surgery and spoiling the animals in the clinic. She has had many different types of pets in the past, including lizards, snakes, and birds.
Currently, she and her family share their home with two wonderful dogs, Cain and Lexie, two cats, Mali and Kai, and a bearded dragon, Percy. She loves spending fun time with her son, going to the beach, and other outdoor activities.
Julie
Veterinary Technician
Julie has been in the veterinary field for approximately 30 years. She has accumulated a small herd of Chihuahua's, an exuberant lab mix, two "tri-pod" kitties, one bird, three bearded dragons, and a Mustang horse. She is married and has three grandchildren that she loves to squeeze every chance she gets. 
Latoya
Veterinary Technician
Autumn
Veterinary Technician
Autumn started at the clinic in July 2016. She graduated from Auburn University in December of 2018 with her Poultry Science degree. She hopes to one day attend Auburn University College of Veterinary Medicine. She loves spending time with her fiancé, John, and her 5 yellow labradors: Milly, Ronnie, Piper, Woody, and Leader. She loves spending time outside while training dogs, as well as hunting and fishing.
Michayla
Veterinary Technician
Michayla has trained at Woodbine Animal Clinic since June, 2019, accruing the CVA certification at the Veterinary Science Career Academy at Tate High School. Michayla officially became part of the Woodbine Family in August, 2021. She graduates high school in May 2022, with her diploma as well as her CVA certification. Michayla plans to attend Pensacola State College in the Veterinary Technology Program for her CVT certification. When not working or at school, Michayla loves going to the beach and spending time with friends and family. Michayla loves animals of all kinds, she has a three-pawed cat named Koa, who thinks he rules the house; and two dogs, Joy--a Beagle mix who is always happy and Ziva--a Shiba Inu that thinks she's a cat!
Iliana
Veterinary Technician
Haley
Veterinary Technician